We done a couple of dives, which were really nice (great vis and water temp of about 28 deg!!) but didn't get to see much big stuff (no turtles, rays, sharks etc, apprently the local people have just fished the waters too much) but we saw lots of lovely corals, nudibranches, jelly fish, starfish and small fish. The dive masters were all great and took us out for night on the town after our last dive.

Now I'm in Darwin, spending some time with Mitchell before heading back to Sydney. Yesterday we went to a info night for spouses, at the base. They gave us a whole heap of contact people, phone numbers, mailing addresses and info on what will be happening in Afghanistan. It was kind of releiving to be shown all the support they will be giving to us while our partners are away. Which is good to know seeing as though I will be moving from Sydney to Darwin during he's deployment. Espechially now that it's been confirmed as an 8mnth deployment :o(

I hope you're all great. I'm sure i'll be posting lots of pic's when I get back to Sydney (this internet connection isn't the greatest so i'm not going to attempt uploading now)
Mitchell and I just got back from Vietnam 2 days ago... Wow! What a beautiful place. This was the first time i had beenm to a third world country like that, so that part was a bit of an eye opener. But what an awesome place, the landscape, food and culture was so great.
Current Mood:

relaxed
trying to get rid of the stuff i don't need/use/want...

I have 2 DVD's that I'm happy to send away to anyone who might want them:

Cracking the Da Vinci Code
Host and author of international best seller 'Cracking the Da Vinci Code', Simon Cox, takes you on an in depth journey through the heart of the mysteries behind Dan Brown's best-selling novel 'The Da Vinci Code'. This comprehensive documentary cuts through the confusion, ultimately cracking Da Vinci's code and revealing the remarkable truth behind the legend of the Holy Grail. Featuring an interveiw with Da Vinci Code author Dan Brown!

The Ultimate Body Workout with Penny Lancaster
Split into easy to follow sections the workout features a range of different exercises for the whole body, including high and low impact aerobic exercise, boxing, dance, yoga, pilates and floor work. You will benefit from improved muscle strength, flexibility, muscle tone, posture and, of course, the feel good factor! The routine is 60mins long.

If you're interested in one of them, send me an e mail with your mailing address :o)

jadonald@bigpond.net.au
I've been going through a lot of my stuff and
Current Mood:

happy
really
hungry, even right after he has dinner. Maybe it's time he moves up to adult cat food, this kitten stuff doesn't seem to be satisfying him anymore. He's about 9mnths now.
Anyway, enough cat ranting, i'll make up for it with a pic :o)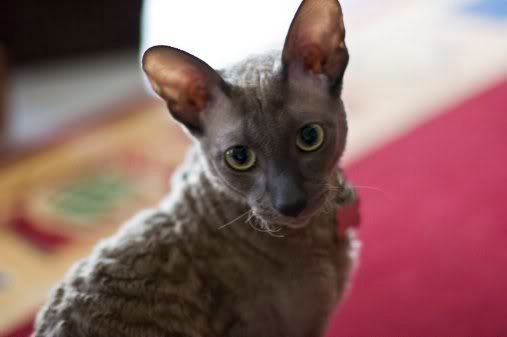 So the kitty monster is getting a bit crazy tonight. Well, he's always crazy but tonight it's different. Constant pining and meowing in a real pitiful sort of way. I think he might be feeling a bit lonely cos i was home sick all of last week and now i'm back to 12hr shifts. He's also
Current Mood:

surprised


One of the boys i nanny for has recently had an operation. He's 2 and had a dermis removed from his forehead, which involved a craniotomy (which is pretty much cutting him from ear to hear, peeling his face down and taking the front of his skull off so they can work behind the bone). He was in an induced coma and then ICU for about a week. The operation was 2wks ago but due to me being sick, today was the first day i had seen him since the op. It is unbeleivable how quickly and differently children react to such a major operation. He is behaving/acting/playing perfectly normal, if it weren't for the half shaved head and zig zag stitches across his skull you would never even know he had been to hospital. It's amazing, i was completely shocked at how well he's recovering. It's great.

Looking forward to work tomorrow and spending time with the kids and only a little over 2wks until i'm flying back to Darwin to see Mitchell (and go to Vietnam!!)
I'm feeling much, much better this week. It's nice to get out of the house and be back at work (after being sick in bed for a week, ick)
Current Mood:

impressed


I hate going all the way to the city to see people just so i can get out of the house and pretend i'm not all alone.

I miss my man, i miss seeing him every day and coming home to him at night.
I'm too old to be catching the train home by myself and getting back at 2am.
Current Mood:

lonely

Blech. I'm still feeling crappy but atleast i'm out of bed now and starting to get my voice back.
Being sick sucks even more when you've got no one to look after you. Well atleast i've had the kitty monster snuggling up in bed with me.

What sucks the most about me being home sick is that i haven't been able to work this whole week and unfortunately nannies don't get paid for days they don't work (unless of course you work for a ridiculously rich family who can afford to pay you even when you're not their)

Oh well, i'm on the mend now and should be good to go for work next week. Lets just hope i don't make the kids sick and then catch this all over again in a weeks time *rolls eyes*

Can't wait to see Mitcell again, 3wks until i fly back to Darwin (and then to Vietnam for a week, woohoo!)
I've been sick in bed for about a week now. Which is the sickest i've been in years. It started with the flu, then chest infection, ulcers and laryngitis.
Current Mood:

sick


But what is a big deal (well to me anyway!) is the surprise Birthday present I'm getting from him... He's taking me for a week in Vietnam!! So it's not so much of a surprise anymore cause he told me last night. I knew i was going to Darwin to spend a few weeks with him during the uni holidays but now, apparently we're spending the first week in Vietnam :o)

I'm so excited now, trying to find out where we can go diving, what we can see, do, experience, etc

Now not only am I looking forward to seeing him but now i also have an actual holiday to look forward too... I can't wait!
It's not my Birthday until July but due to Mitchell's pre-deployment training i won't be spending it with him. No big deal, i don't think i've actually seen him on my Birthday for the past 2yrs (curtesy of the Australian Army!)
Current Mood:

bouncy


My own mum is overseas at the moment so i won't be seeing her.
I'm taking my Grandma out for pancakes today (i won't see her for Mother's Day tomorrow) and then going to see Mitchell's mum for a picnic tomorrow.
Current Mood:

hungry
Current Mood:

happy


He'll be away for 8 months but doesn't leave until August. I'm mostly upset about the length. 8 months is a long time not to see someone :o( ...atleast we should be glad that he got deployed while we were living apart and not after i had moved up to Darwin with him (8 months by myself after moving across the country would have sucked even more).

Unfortunately, he'll still be overseas when i do move up there, but i'll only be by myself for a month or 2, which is fine.

So he's really enjoying the training they're doing at the moment and hearing the stories from some of our friends that have just got back from Afghanistan. Some of the stories are a bt scarey for me to think about but in all the Aussie soldiers are doing good over their, helping to rebuild the area's, training the Afghan Army to fight the Taliban etc, but i hate the thought of him doing patrols and searches for bombs, IED's etc, but these are all a part of it too.

Everyone gives me this "I'm so sorry" look when they find out his going away and act as if i should be mortified. I'm very glad to hear Mitchell so happy and finally hear him have good things to say about work. I'm also very proud with what he'll be doing. Despite that, i'm sure there a many stressful and worried posts to be made about this in the future!
The enevitable has happened, Mitchell is being deployed to Afghanistan. He's really excited about it and finally has some job satisfaction. Which makes me feel happy for him (but obviously i'm also worried)
Current Mood:

tired